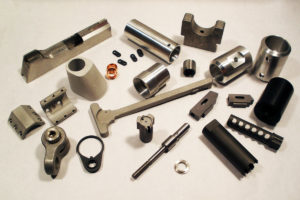 We specialize in high precision machining of steel and aluminum alloys, as well as plastic and polymer parts. Whether you need a single high-value part machined to exacting tolerances or hundreds of parts per month, we can accommodate your needs.
One of our strong suits is our focus on continual process improvement. Every time we do a production run, we look for new ways to improve our processes. It is not uncommon for our price to drop on subsequent runs as we pass these savings on to you. All of our employees are dedicated to providing the best possible value to our customers.
Additionally, we are the only shop in Southern Oregon to provide True Mil-Spec Manganese Phosphate coating (Parkerizing) for steel parts. We also have a network of suppliers for Anodizing, Laser engraving, Salt-bath Nitriding, Black oxide and other surface finishes, providing value-added one stop shopping for finished parts.
Production Machinery
Hardinge T-42 Conquest Lathe
2 inch thru-spindle barfeed capacity
Live tooling
12 tool turret
Fanuc control
Hardinge CHNC Lathe
1-5/8 thru-spindle barfeed capacity
8 tool turret
Fanuc control
Emco Maier Emcoturn 320 Lathe
1 inch thru-spindle capacity
8 tool turret
Fanuc control
Omniturn CNC Lathe
1 inch thru-spindle barfeed capacity
Tree-Kira Vertical Machining Center
20 tool changer
CT-40 spindle
Fanuc control
Matsuura M500V Vertical Machining Center
20 tool changer
BT35 spindle
Yasnac control
Epilog Fibermark 30w CNC Laser Engraver
Manual Machinery
Bridgeport Series II Mill
Tru-Trace 3 axis tracer head
Newall 3-axis DRO .0002 res.
Hydraulic 3-axis powerfeed
Jet Engine Lathe
13×40 inch capacity
1-1/2 thru spindle capacity
coolant fed
Acra-Turn LS-330 Engine Lathe
13×40 inch capacity
1-5/8 thru spindle capacity
coolant fed
collet closer
Hardinge HC Super Precision Turret Lathe
8 station turret
1-1/8 capacity 5c collet spindle
.00005 capable
Jet Horizontal Bandsaw
7×12 inch rectangular capacity
8 inch round capacity
Boyar-Schultz Surface Grinder
Support Equipment
Complete selection of metrology equipment for quality assurance
J & L Optical Comparator
Pedestal grinding/ deburring wheels
Drill Press
Arbor Press
Hydraulic 20 ton H press
MIG ang TIG welders for steel and alum
Sand/ bead blasting cabinets
Automatic TRINCO tumble-blaster

Additionally, all employees own extensive personal tool selections appropriate for their expected job duties