MOA Precision, LLC was founded in 2005 by Thomas and Katherine Hart. Thomas began his career in the tool and die industry manufacturing plastic injection molds for customers such as Hewlett-Packard, Dell Computers, Boeing, Nelson Irrigation and Toyota. He gained experience in high volume production work as a foreman in a large job shop before rounding out his experience in the aerospace machining industry. He currently oversees day to day operations on the shop floor as well as quoting and customer relations. Katherine is the office manager, keeping the paperwork up to date and overseeing payroll and billing.
The shop expanded its capabilities in 2008, moving into a newer facility and incorporating CNC machines to boost production capacity. The current facility is in an industrial park, allowing the ability to continue expansion as necessary.
Current customers include military/law enforcement contractors and a leading manufacturer of environmental measuring systems among others.
We are dedicated to providing competitively priced machine work while keeping a very high standard of workmanship. In all of our products, we are proud to say, MADE IN THE USA!!!
For about 7 years, members of our company's shooting team "TeamMOA" have competed around the country in 3gun and other shooting competitions. Our shooters include Thomas, Ben, Josh, Tim, and Aaron Hart and professional shooter Jeremy VanSchoonhoven.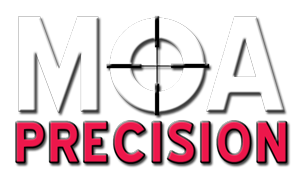 MOA as used in our name is an abbreviation for a geometric term, "minute-of-angle". Defined as 1/60th of one degree of rotation, it is also used by shooters as an accuracy measurement. One MOA forms a triangle in which the narrow leg is 1.047 inches if the long legs are 100 yards in length. Therefore if a rifle shoots 1moa, it will group about an inch at 100 yards.
Since we specialize in precision machining, the name perfectly describes our mission statement.